This morning I had a terrific and challenging workout. I have been working out consistently for a few years now, 6 days a week so I am trying to push myself harder. I did a nice circuit training workout consisting of 12 different exercises. 46 reps of each as quickly as possible with minimal rest. Exhausting! The Stability Ball Hamstring Curls were killer. I am sure I will be feeling it in my hamstrings tomorrow!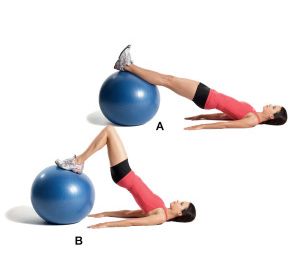 Squat Thrusts x 46

Dumbbell push ups x 46

DB Squat Press x 46 with 15 lb Dumbbells

One Legged Step Ups – 46 each leg with 15 lb dumbbells

Grasshoppers - 46 each side

Stability Ball Hamstring Curls x 46 (ouch)

Jumping Lunges – 46 total

Side to Side Squat Jumps x 46

In/Outs x 46

Kettlebell High Pull or Kettlebell Swing x 46 ( I did 56 with a 15 lb KB)

Russian Twists – 46 each side

Squats x 46

I was glad when this was over, but I also felt invigorated!
My eating has been pretty decent. I have been staying in my caloric range and eating cleanly. Hopefully it will be enough to push me out of my plateau!